This is daisy she produces alot of milk which is a good thing because if she didn't she'd probably make a great steak.
Daisy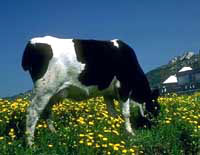 This is Fat Bull. He always looks pissed off and he shows the other cows that he's boss when they come to close to his part of the field.
Fat Bull
This is cool cow she is surprisingly talkative considering shes a cow she resently had babies!!
cool cow